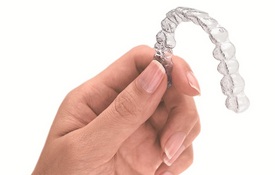 What is Invisalign?
Imagine straightening your teeth without the metal brackets and wires. Invisalign takes a modern approach to straightening teeth, using a custom-made series of aligners specifically created for you. These aligner trays are made of smooth, comfortable and virtually invisible plastic that you simply wear over your teeth. The best part about the whole process is that most people won't even know you're straightening your teeth!
Why Invisalign?
A beautiful smile has a significant positive impact on how you look and feel about yourself. Invisalign straightens your teeth with a level of comfort and convenience that is unmatched. Invisalign offers several advantages over conventional metal braces:
Virtually invisible – Being made of clear plastic, the aligners are almost unnoticeable. Friends, family, and colleagues may not even be able to tell you're wearing them!
Comfortable – Smooth comfortable plastic aligners will not poke or irritate your mouth
Removable – Aligners are easily removed which allows you to eat all the foods you enjoy and also allows you to brush and floss without interference.
Less time in the dental chair – Unlike traditional metal braces, Invisalign does not require numerous visits to the dental office.
Treatment Preview – Invisalign's powerful computer software allows you to see your treatment outcome before it happens!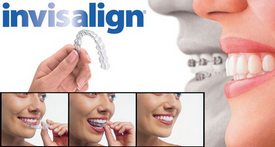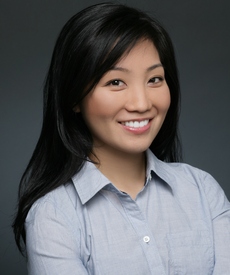 How does Invisalign work?
Let us guide you through the Invisalign process:
Records:
The Invisalign process begins with detailed records of tooth position and relation. Impressions of your teeth are sent to the Invisalign laboratory. These impressions are digitized which allow Dr. Varda and Invisalign to develop a detailed treatment plan.
Treatment Planning:
At the heart of the Invisalign process is powerful computer software known as ClinCheck. This software will allow a virtual preview of the tooth movements involved and what your teeth will look like after treatment is completed. Details of your treatment and specific concerns will be discussed. For most patients, the duration of treatment is about one year.
Treatment:
Once the treatment plan has been completed, your custom-made aligners will be fabricated. At your first treatment appointment, you will receive three sets of aligners. You will progress to a new set of aligners every two weeks. At recommended intervals (usually every six weeks), check-up appointments are scheduled to monitor the movement of your teeth according to the treatment plan.
Retention:
In regards to tooth movement, retention refers to the maintenance of tooth position after treatment. As with all orthodontic treatment, retention is critical to prevent relapse. This final stage of the Invisalign process is accomplished by the use of Vivera retainers, which is a re-enforced version of your final Invisalign aligner.
Learn more about Invisalign.
Edgemont Dental Care
Your dental office in the heart of Edgemont Village.
Dr. Robert Varda, DMD
103-3151 Woodbine Drive
North Vancouver, B.C. V7R 2S4
604.985.9535

| | |
| --- | --- |
| Monday          | 8:00 – 5:00 |
| Tuesday | 8:00 – 5:00 |
| Wednesday | 8:00 – 5:00 |
| Thursday | 8:00 – 5:00 |
| *open occasional Fridays | |