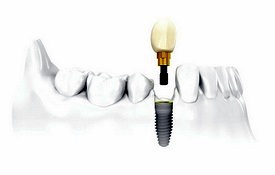 Implant Restorations
In the past, individuals missing teeth had limited options. Today, thanks to dental implant solutions, those with concerns about their appearance and dental health no longer have to live without a beautiful smile! Dental implants are designed to replace the root of a tooth. By integrating into the jaw, dental implants enable restorations ranging from replacement of a single tooth (crown) to multiple teeth (bridge).
Learn more about dental implants and implant restorations.
Replacing a Single Tooth with an Implant
If you are missing a single tooth, a dental implant with a crown is the most natural-looking way to replace both the lost tooth and its root. A dental implant looks and functions like a natural tooth while providing many advantages over other types of tooth replacement. Unlike a bridge, a dental implant does not require the adjacent teeth to be ground down. In addition, because the implant replaces the previous tooth root, the jawbone is better preserved over time. In the case of a dental bridge, the bone that previously surrounded the natural root begins to deteriorate. An implant keeps this bone intact which can prevent both bone loss and gum tissue shrinkage. An implant is also much easier to clean as compared to a bridge, and unlike a bridge, will not be affected by cavities.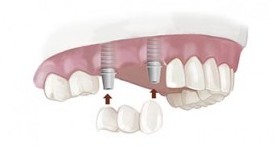 Replacing Multiple Teeth with an Implants
If you are missing several teeth, implant supported crowns and bridges can replace them with ease. Implant supported bridges are permanently fixed in your mouth and will not move around, unlike removable partial dentures which can be a nuisance. Dental implants look and function like natural teeth without needing the support of neighboring teeth. Because dental implants replace the root of the natural tooth, they stimulate the jawbone long-term and help prevent bone loss. This helps to keep both the bone and gum tissue from collapsing, which can lead to an unattractive smile.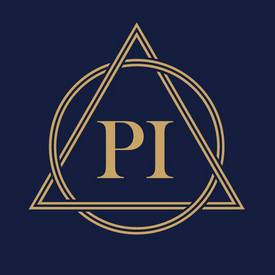 Pacific Institute
Dr. Robert Varda attained his dental implant training at the Pacific Institute under the guidance of Dr. Bobby Birdi, one of North America's few Certified Dual Specialist in Periodontists and Prosthodontics, as well as the renowned Dr. Ron Zokol. The Pacific Institute is dedicated to provide world-class education through innovation and state-of-the-art techniques in dentistry. The Implant Residency at the Pacific Institute is a year-long program involving didactic, hands-on models, and home study components. This comprehensive program covered the treatment planning, surgical, and restorative phases of dental implant treatment.
Edgemont Dental Care
Your dental office in the heart of Edgemont Village.
Dr. Robert Varda, DMD
103-3151 Woodbine Drive
North Vancouver, B.C. V7R 2S4
604.985.9535

| | |
| --- | --- |
| Monday          | 8:00 – 5:00 |
| Tuesday | 8:00 – 5:00 |
| Wednesday | 8:00 – 5:00 |
| Thursday | 8:00 – 5:00 |
| *open occasional Fridays | |